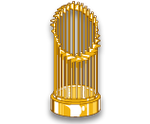 The World Series is the annual championship series of Major League Baseball (MLB) and concludes the MLB postseason. First played in 1903, the World Series championship is determined through a best-of-seven playoff and is contested between the champions of the American League (AL) and the National League (NL).
The best-of-seven style has been the format of all World Series (except in 1903, 1919, 1920 and 1921, when the winner was determined through a best-of-nine playoff). The Series-winning team is awarded the Commissioner's Trophy. Players, coaches, and others associated with the team are generally given rings to commemorate their victory; however, they have received other items such as pocket watches and medallions in the past. The winner of the World Series is traditionally invited to the White House to meet the President of the United States.
The New York Yankees of the American League have played in 40 of the 105 Series through 2009 and have won 27 World Series championships, the most of any Major League franchise. The Yankees have also lost more (13) than any other club. For the National League, the Dodgers have appeared in the Series the most at 18 times (9 each in Brooklyn and Los Angeles), but have won the Series only 6 times (once in Brooklyn, five times in Los Angeles). The St. Louis Cardinals have represented the National League 17 times and have won 10 championships, which is the second-most among Major League teams. The Chicago Cubs have the longest streak of not winning the World Series, with their last championship coming in 1908. The Toronto Blue Jays are the only franchise from outside the United States to appear in a World Series, winning in 1992 and 1993.
List of World Series champions
Season
World Series Champions
Record
Runner-Up
Record
1
2
3
4
5
6
7
World Series MVP
1971
Pittsburgh Pirates
NL
97-65
Baltimore Orioles
AL
101–57

5-3

11-3

5-1

4-3

4-0

3-2

2-1
Roberto Clemente
OF
1972
Oakland Athletics
AL
93–62
Cincinnati Reds
NL
95–59

3-2

2-1

1-0

3-2

5-4

8-1

3-2
Gene Tenace
C
1973
Oakland Athletics
AL
94–68
New York Mets
NL
82-79

2-1

10-7

3-2

6-1

2-0

3-1

5-2
Reggie Jackson
OF
1974
Oakland Athletics
AL
90–72
Los Angeles Dodgers
NL
102-60

3-2

3-2

3-2

5-2

3-2
Rollie Fingers
CP
1975
Cincinnati Reds
NL
108–54
Boston Red Sox
AL
95-65

6-0

3-2

6-5

5-4

6-2

7-6

4-3
Pete Rose
3B
1976
Cincinnati Reds
NL
102–60
New York Yankees
AL
97–62

5-1

4-3

6-2

7-2
Johnny Bench
C
1977
New York Yankees
AL
100–62
Los Angeles Dodgers
NL
98–64

4-3

6-1

5-3

4-2

10-4

8-4
Reggie Jackson
OF
1978
New York Yankees
AL
100–63
Los Angeles Dodgers
NL
95–67

11-5

4-3

5-1

4-3

12-2

7-2
Bucky Dent
SS
1979
Pittsburgh Pirates
NL
98–64
Baltimore Orioles
AL
102–57

5-4

3-2

8-4

9-6

7-1

4-0

4-1
Willie Stargell
OF
1980
Philadelphia Phillies
NL
91–71
Kansas City Royals
AL
97–65

7-6

6-4

4-3

5-3

4-3

4-1
Mike Schmidt
3B
1981
Los Angeles Dodgers
NL
36–21
27–26
New York Yankees
AL
34–22
25-26

5-3

3-0

5-4

8-7

2-1

9-2
Ron Cey
Pedro Guerrero
Steve Yeager
3B
OF
C
1982
St. Louis Cardinals
NL
92–70
Milwaukee Brewers
AL
95–67

10-0

5-4

6-2

7-5

6-4

13-1

6-3
Darrell Porter
C
1983
Baltimore Orioles
AL
98–64
Philadelphia Phillies
NL
90–72

2-1

4-1

3-2

5-4

5-0
Rick Dempsey
C
1984
Detroit Tigers
AL
104–58
San Diego Padres
NL
92–70

3-2

5-3

5-2

4-2

8-4
Alan Trammell
SS
1985
Kansas City Royals
AL
91–71
St. Louis Cardinals
NL
101–61

3-1

4-2

6-1

3-0

6-1

2-1

11-0
Bret Saberhagen
SP
1986
New York Mets
NL
108–54
Boston Red Sox
AL
95–66

1-0

9-3

7-1

6-2

4-2

6-5

8-5
Ray Knight
3B
1987
Minnesota Twins
AL
85–77
St. Louis Cardinals
NL
95–67

10-1

8-4

3-1

7-2

4-2

11-5

4-2
Frank Viola
SP
1988
Los Angeles Dodgers
NL
94–67
Oakland Athletics
AL
104–58

5-4

6-0

2-1

4-3

5-2
Orel Hershiser
SP
1989
Oakland Athletics
AL
99–63
San Francisco Giants
NL
92–70

5-0

5-1

13-7

9-6
Dave Stewart
SP
1990
Cincinnati Reds
NL
91–71
Oakland Athletics
AL
103–59

7-0

5-4

8-3

2-1
José Rijo
SP
1991
Minnesota Twins
AL
95–67
Atlanta Braves
NL
94–68

5-2

3-2

5-4

3-2

14-5

4-3

1-0
Jack Morris
SP
1992
Toronto Blue Jays
AL
96–66
Atlanta Braves
NL
98–64

3-1

5-4

3-2

2-1

7-2

4-3
Pat Borders
C
1993
Toronto Blue Jays
AL
95–67
Philadelphia Phillies
NL
97–65

8-5

6-4

10-3

5-14

2-0

8-6
Paul Molitor
3B/DH
1994
No World Series was played in 1994 due to the 1994–95 strike.
1995
Atlanta Braves
NL
90–54
Cleveland Indians
AL
100-44

3-2

4-3

7-6

5-2

5-4

1-0
Tom Glavine
SP
1996
New York Yankees
AL
92–70
Atlanta Braves
NL
96–66

12-4

4-0

5-2

8-6

1-0

3-2
John Wetteland
CP
1997
Florida Marlins
NL
92-70
Cleveland Indians
AL
86–75

7-4

6-1

14-9

10-3

8-7

4-1

3-2
Liván Hernández
SP
1998
New York Yankees
AL
114–48
San Diego Padres
NL
98–64

9-6

9-3

5-4

3-0
Scott Brosius
3B
1999
New York Yankees
AL
98–64
Atlanta Braves
NL
103–59

4-1

7-2

6-5

4-1
Mariano Rivera
CP
2000
New York Yankees
AL
87–74
New York Mets
NL
94–68

4-3

6-5

4-2

3-2

4-2
Derek Jeter
SS
2001
Arizona Diamondbacks
NL
92-70
New York Yankees
AL
95-66

9-4

4-0

2-1

4-3

3-2

15-2

3-2
   


   


Curt Schilling
Randy Johnson
SP
SP
2002
Anaheim Angels
AL
99-63
San Francisco Giants
NL
95-66

4-3

11-9

10-4

4-3

16-4

6-5

4-1
Troy Glaus
3B
2003
Florida Marlins
NL
91-71
New York Yankees
AL
101-61

3-2

6-1

6-1

4-3

6-4

2-0
Josh Beckett
SP
2004
Boston Red Sox
AL
98-64
St. Louis Cardinals
NL
105-57

11-9

6-2

4-1

3-0
Manny Ramirez
OF
2005
Chicago White Sox
AL
99-63
Houston Astros
NL
89-73

5-3

3-1

5-0

5-4
Jermaine Dye
OF
2006
St. Louis Cardinals
NL
83-78
Detroit Tigers
AL
95-67

7-2

3-1

5-0

5-4

4-2
David Eckstein
SS
2007
Boston Red Sox
AL
96-66
Colorado Rockies
NL
90-73

13-1

2-1

10-5

4-3
Mike Lowell
3B
2008
Philadelphia Phillies
NL
92-70
Tampa Bay Rays
AL
97-65

3-2

4-2

5-4

10-2

4-3
Cole Hamels
SP
2009
New York Yankees
AL
103-59
Philadelphia Phillies
NL
93-69

6-1

3-1

8-5

7-4

8-6

7-3
Hideki Matsui
DH